Loyalty Points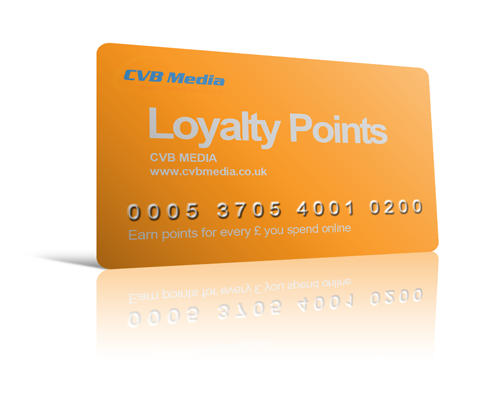 CVB MEDIA appreciates the commitment our customers show by coming back month after month to buy their media supplies from us. Although we pride ourselves on offering very competitive pricing and an excellent customer service we want to give our customers a little bit extra as a thank you for their continued support. So how does our Loyalty Points Scheme work?
Collecting Points
When you shop with us, every purchase is worth loyalty points. You will be awarded one discount point for every £1 spent (excluding shipping & vat). Each discount point is worth 1p so for example a purchase of £100 gives you 100 loyalty points and this is equal to a £1 discount.
Each product shows how many loyalty points you can earn and as you add products into your basket you will notice it displays the total loyalty points available if you purchase the products in the basket. These points will only be added to your account once your order has been dispatched and will only then be available for redemption against any future orders you place.
You do not need to register to take part in our loyalty scheme as our system does it automatically!
Viewing Points
To view the total Loyalty Points & Value click on My Account and Order Information. Loyalty Points for orders currently being processed will not appear in the totals until they have been dispatched.
Against each order the Loyalty Points awarded are displayed. If the points are displayed in [brackets] they are waiting to added to your account total. Points displayed in
bold
are available for redemption during the checkout procedure. Points displayed in a normal regular font have already been redeemed.
Spending Points
The Loyalty Points and the associated discount value available is displayed when you view the basket. Simply click on the tick box next to where it displays
Use xxx Points.
However, you may decide not to spend the points on this occasion and use them for that next big order you will need to place!
About Points
Points are added to your account only when the order has been accepted and dispatched. Should you cancel your order after dispatch or return any items the relevant points will be deducted from your account. There is no cash alternative and Loyalty points are only available for orders placed via our website and not by telephone or fax. Loyalty points will remain valid for a period of 12 months from the date awarded.
If you have any questions regarding our Loyalty Points Scheme then please do not hesitate to contact us

.