Mirror Photo Paper - Same Great Paper - New Packaging
Monday, 12 July 2010 | Admin
Our very popular Mirror brand Inkjet Photo Papers are going through a re-branding this summer.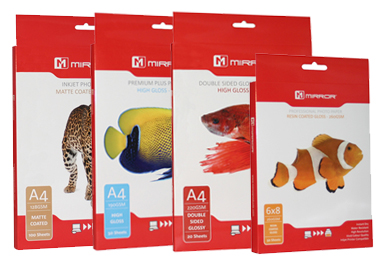 Same Great Paper - New Packaging:
New bright packaging is the order of the day with a range of stunning wildlife images separating the different sizes and formats..
New pack sizes and finishes have also been added to the ever increasing range, Double Sided Matte/Matte and Gloss/Gloss have been introduced, perfect for card making. Smaller 25 Sheet pack sizes are now also available
Mirror Photo Quality InkJet Paper is the ideal paper for printing all your photos and high-quality prints. The Mirror range of paper has some superior features such as higher gloss, with a whiter and smoother finish than most other Photo Papers. It is the latest in Photo Paper technology, meaning Instant Dry, Water Resitant, High Resolution and Vivid Colour Quality are standard through-out the range! Unlike other glossy paper you will find no wave-like tracking on Mirror InkJet Photo Paper.
See the full range of Mirror Photo Papers HERE